On your Sri Lanka holiday, it's not just breathtaking nature sights, gorgeous skyscrapers, delicious foods and welcoming people with beautiful smiles that waiting for you. Sri Lanka also one of the best beach destinations to try surfing for the first time. Spectacular beautiful beaches with warm blue waters, soft sands and crashing waves will guarantee that your surf retreat is thrilling and unforgettable. Sri Lanka offers some of the best beginner surf beaches in the world. And it's one of the many reasons to visit this beautiful tiny island in the Indian Ocean.
Here are the top seven beginner surf beaches in Sri Lanka to try and push your surfing to the next level.
1) Weligama Beach
---

---
Weligama beach is one of the amazing beaches for enthusiastic surfers to get on a board and surf the waves. It's one of the most popular beginner surf beach spots in Sri Lanka. Thanks to the smooth waves that are ideal for your first time surfing. The water in Weligama beach is clean and in perfect condition. A low and soft sandy floor at Weligama makes jumping on the board for the first time much easier than ever with perfectly turned-out waist to chest high waves. October to April is the best time to visit Weligama Beach. The Weligama beach is also popular for Swimming, Snorkeling, Scuba dive (PADI), and Boat rides. So altogether Weligama beach is the best place to enjoy multiple water sports.
2) Unawatuna Beach
---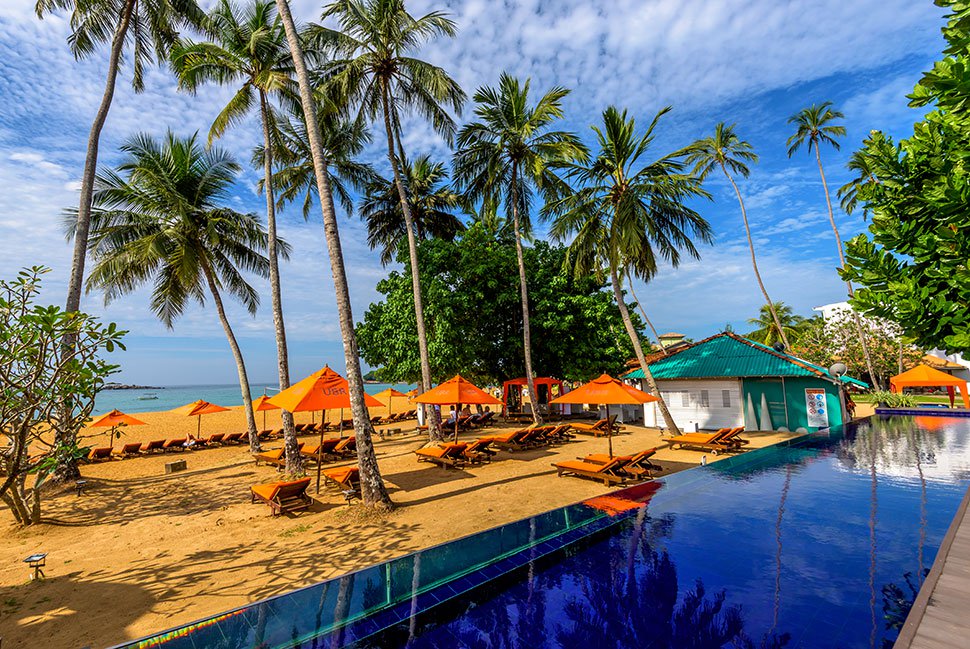 ---
Unawatuna Bay Beach is another unmissable beach for surfers; this is the perfect place to fall in love with the exciting water sport. Suitably positioned just nearby the crook of Galle, its 5km away from the VOC Galle Dutch Fort. Unawatuna Bay gives you a good chance of having the convenient place to yourself for surfing or just sharing your space with only a few of the local surfers. The tropical beautiful beach surrounded with places to eat and drink where you can refresh yourself in between your surf sports. October to April is the best time to surf on Unawatuna Bay Beach.
3) Hikkaduwa Beach
---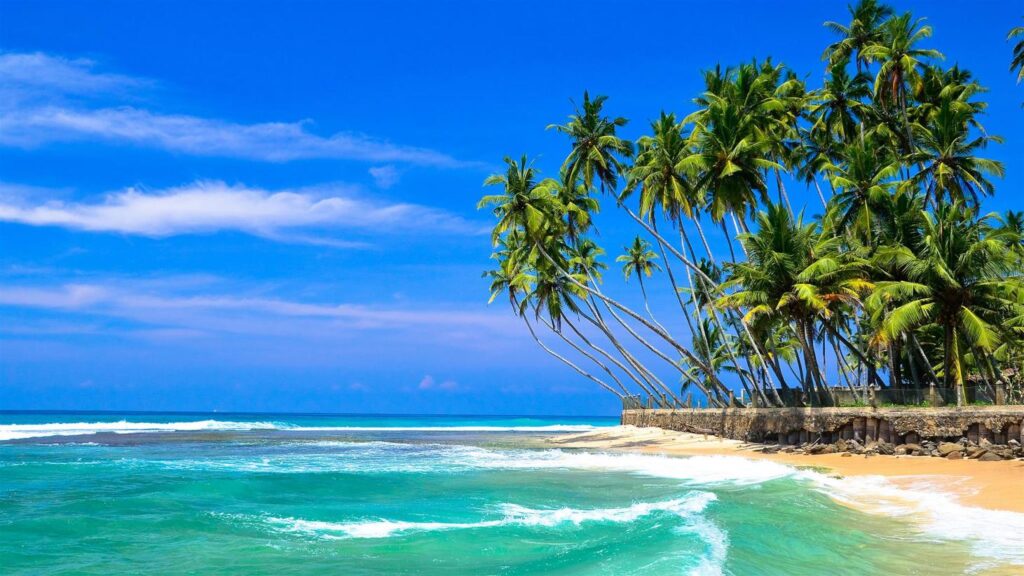 ---
Hikkaduwa is a fishing village. Hikkaduwa is a paradise for scuba diving expeditions and surfing. Also, it has bustling nightlife where you can enjoy the night beauty of this beach paradise. The waves at Hikkaduwa beach between three to ten feet high when they get going that makes it a perfect spot for surfing sports. Here you can also enjoy the coral reefs, a multitude of various fishes and breathtakingly beautiful sunsets. Hikkaduwa is a peaceful picture-perfect long beach that is largely un-spoilt and fringed by coconut trees. The beach is surrounded by many food &drink stalls where you can get refreshments in-between your surfing sports. October to April is a good time to visit Hikkaduwa Beach.
4) Arugam Bay Beach
---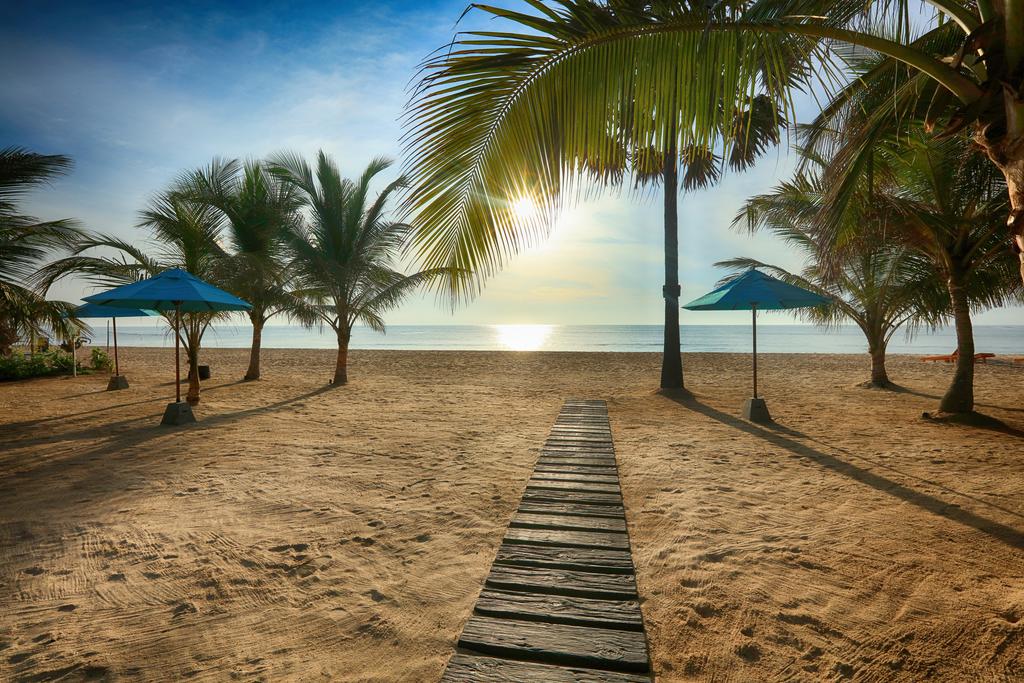 ---
Arugam Bay beach is well-known for its long lazy waves which peel along its southern shore for hundreds of meters. Arugam Bay beach is very famous among tourists and it is one of the best beginner surf beaches in Sri Lanka. The beach has consistent strong waves and if you have good stamina, sure you will enjoy your surfs at this beautiful moon-shaped bay beach. The beach set on the edge of Yala East National Park, hence, you can get the opportunity to spot mighty elephants, water buffalo, wild boar and exotic beautiful birds. The beach is surrounded by cafes, food stalls and all the facilities you need for a beach day out. Altogether Arugam Bay is the best beach getaway. April to October is the perfect time to surf on Arugam Bay beach.
5) Mirissa Beach
---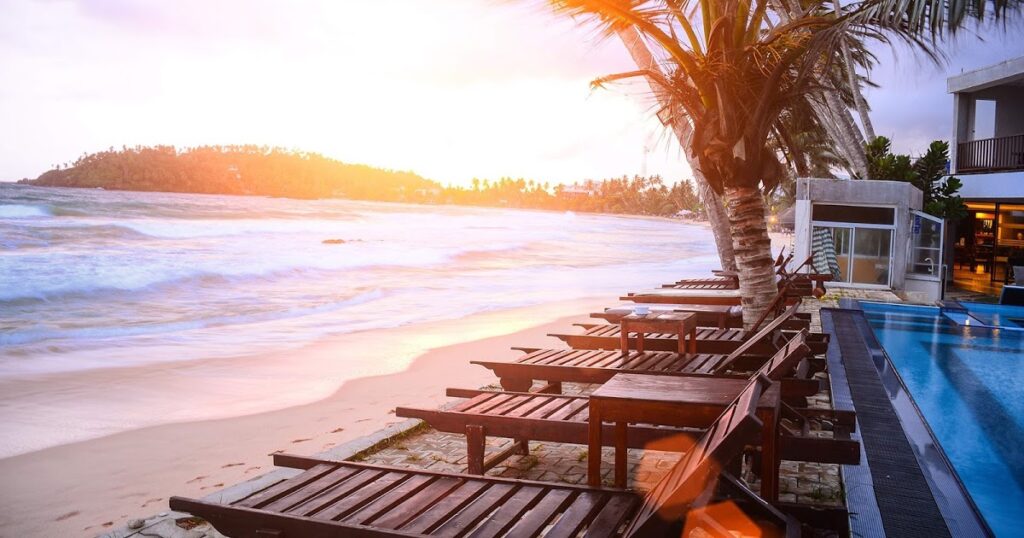 ---
Undoubtedly Mirissa Beach is one of the best beginner surf beaches in Sri Lanka. Mirissa is an elegant crescent-shaped beautiful beach with soft sand and surrounded by pineapple trees. This calm and tranquil beach spot is the impeccable place for newbies to improve their surfing skills by conquering the crashing waves in Mirissa Beach. Mirissa is also popular for its whale watching as here you can get the chance to spot migrating blue, Bryde, fin and sperm whales as well as some cute dolphins. The crystal clear blue waters of the beach are outlined by green palm trees and lush grasses. October to April is the good times enjoy your surfing on the Mirissa Beach.
6) Elephant Rock Beach
---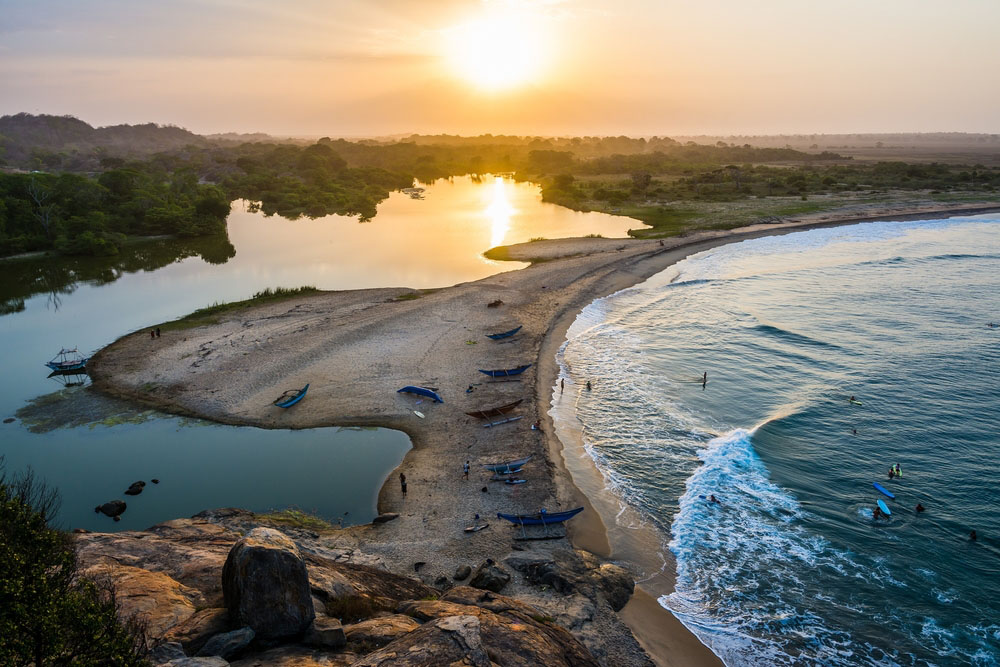 ---
Elephant Rock beach is about 3km away from the south of Arugam Bay and it's an ideal place for beginner surfers. Less crowd, river-mouth break and shallow waters of the beach make it a less challenging spot for beginners. The beach is a breathtakingly scenic area with green grasses touching the golden sands. It is an amazing place to spot mighty wild elephants as they wander along the sandy shore at sunrise and sunset. You can experience the true beauty of the island in the solitude of this beautiful untouched virgin beach encircled by nature. April to October is the perfect time to explore this gorgeous Elephant Rock Beach.
7) Whiskey Point Beach
---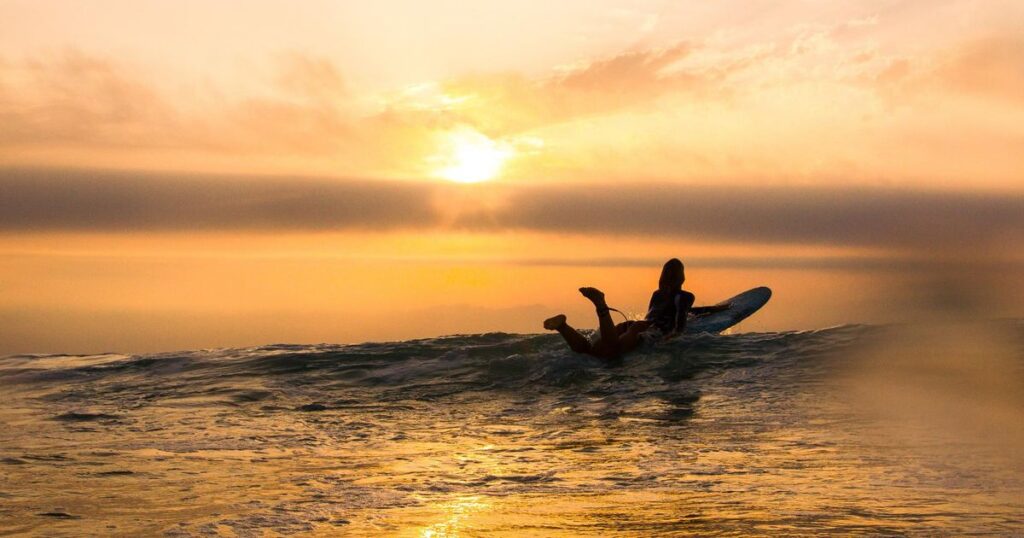 ---
Whiskey Point Beach situated in the north of Arugam Bay. Its great place for learners to get their surfing lessons as the spot is less crowded. Therefore it's among the best beginner surf beaches in Sri Lanka for those who are looking to improve their surfing skills. The beach has waves all seasons, thus surfers can enjoy their surfing sports any time as they wish. The waves on Whisky Point break off a rocky ridge near the beach, creating impeccable conditions for surfing and the swell can differ from 1–4 meters, where surfers get the chance to test their surfing skills. The almost virgin beach not only good for surfing is also a perfect spot to chilling out, and leisurely enjoys some delicious seafood and drinks while relaxing yourself in the beachfront.
Closing With
Sri Lanka beaches offer waves to suit everyone's taste. From long point break walls to punchy beach break peaks, you can experience the best on your Sri Lanka surf trip. With the best beginner surf beaches in Sri Lanka, you can learn and improve your surfing skills as well. In between your surfing sports, if you need a break away from waves, you can explore the scenic beauty of Sri Lanka as this tiny island has rich wildlife, gorgeous natural spots, majestic historical momentums and many more. All you need to do is to plan a surf holiday to Sri Lanka where you level up your surfing journey as well as enjoy a beach vacation.
Are you planning to catch the waves in Sri Lanka? Here's a go-to list of the best surf beaches in Sri Lanka for beginners. Let me know where you are going to start your surfing journey!